About Tai Jewelry
Born and raised in Bangkok, Thailand, Tai Rittichai's artistic upbringing and interest in jewelry making blossomed into a full time business when she launched Tai Jewelry in 2002. Years later, Tai still devotes the same attention to detail as the day she first started. Tai is proud to employ and support some of the finest artisans in Thailand to create her line and she strives to keep the art of handcrafted jewelry alive.
Customer Reviews
Write a Review
Ask a Question
09/14/2020
Sophia
New Zealand
Instantly fell apart
These are so pretty, i fell in love as soon as tHey arrived! Unfortunately after the first hour of weariNg them both had lost their green stOnes. I was just walking around the grocery store, not doing anything that Would have knocked them so i think they were poorly made. So disappointing as they really are lovely! I received a quick refund.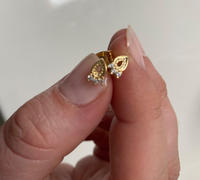 09/29/2020
local eclectic
We're so sorry this happened to your earrings. Please feel free to reach out if you have additional questions or concerns.