Regular price
$105
Sale price
$90
Unit price
per
Sale
Full Description

We read your cards and saw these tarot card necklaces in your future. These stunning and colorful tarot card pendant necklaces from Tai Jewelry are as beautiful as they are magical. Wear them to manifest the meaning of each card.


Cubic zirconia
Yellow gold plated
Brass base
Pendant 25 x 15 mm
Chain length 22" 

 

Tarot Card Meanings

The Queen of Cups *LE Exclusive*: Show yourself some love! The nurturing Queen of Cups represents emotional depth and reminds you that it's necessary to fill your own cup before you can fill the cups of others.

The Moon: Trust your intuition! The Moon tarot card reminds you that not everything is as it appears, and in the face of uncertainty, your gut instinct is what you should trust above all else

The Sun: Something good is coming! The Sun tarot card represents good fortune, positivity, and a clear path on the way to achieve your goals

The Star: Things are looking up! The Star tarot card represents the light after darkness and signals that happy times and positive changes are just around the corner

The Knight of Cups: Get ready for romance! The Knight of Cups is the romantic of the tarot deck and signals that beauty, love, passion, and creativity await you

The World *LE Exclusive*: Luck is on your side! The World tarot card represents a sense of being on top of the world and invites you to acknowledge your hard work, success and achievements.

The Lovers: Embrace vulnerability! The Lovers tarot card represents meaningful relationships, both romantic and platonic, and highlights the importance of open and honest communication to remind us of the strength in vulnerability.
Care Instructions

Gold Vermeil & Gold Plated

To extend the life of your gold plated and vermeil jewelry, avoid wearing when washing hands, showering, applying lotion, using harsh cleaning supplies or working out. To clean, buff gently with a soft and dry 100% cotton cloth or a microfiber cloth. Do not use jewelry cleaner on gold plated jewelry.
View full details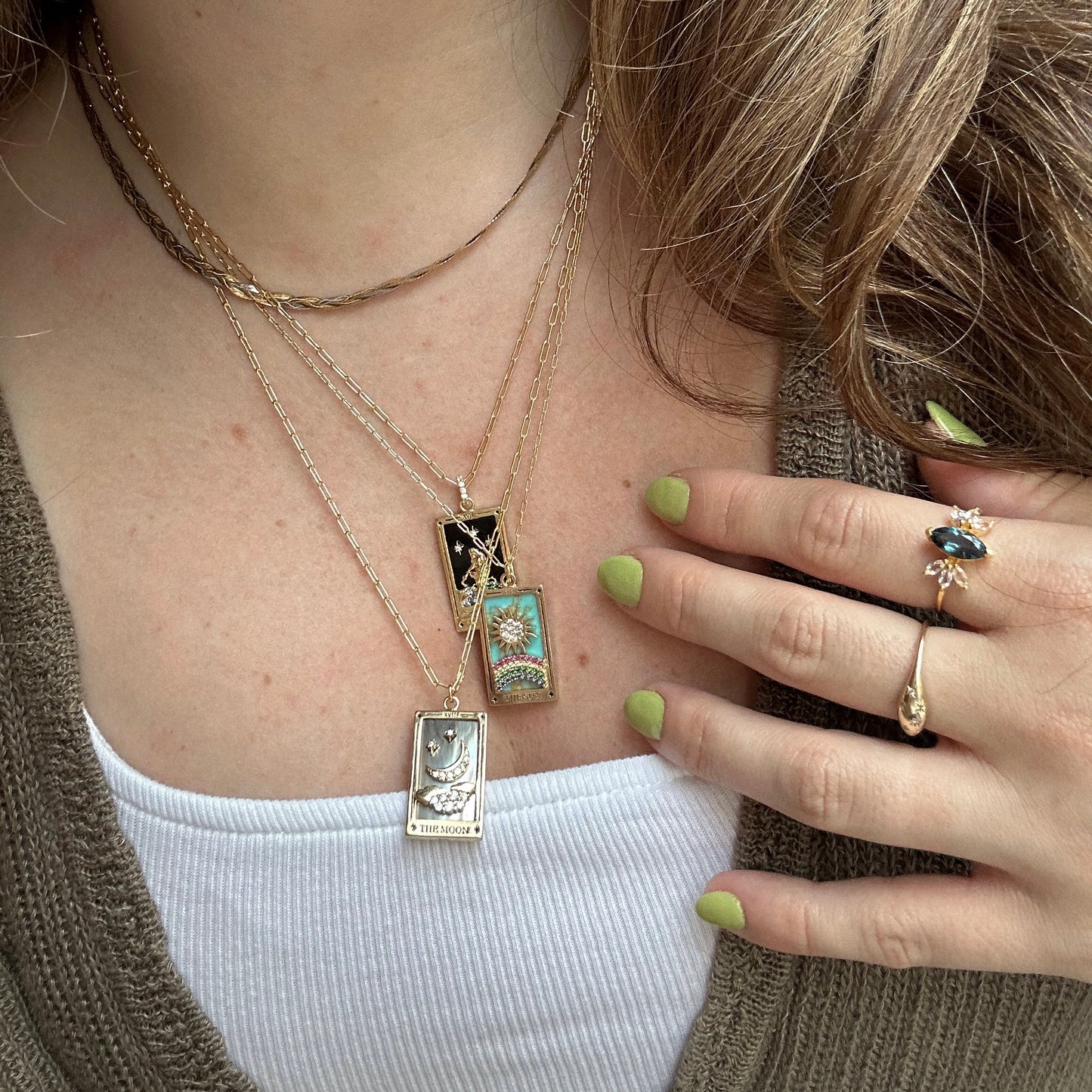 Tai Jewelry
Tai Jewelry is designed by Tai Ritticha in Los Angeles, California
Tai Jewelry is trend-driven and colorful with a focus on celestial and symbolic designs
Tai Jewelry is gold plated with simulated and natural gemstones
View Collection