Customer Reviews
Write a Review
Ask a Question
Filter Reviews:
pair
three
deal
items
surprise box
$300
charm
rings
times
style
So awesome!
I love the solid gold surprise boxes! They are so fun to get! I have no idea what piece I'll get, but I end up always loving it! They're all really cute and fun and dainty pieces! I can't wait for the next box!
09/13/2022
Katherine E.

United States
Solid gold surprise box
I loved the earrings and ring they sent me.
07/10/2022
Danielle S.

United States
Cute earring and a simple gold chain
I love my mystery box items! I got a nice pair of stuffs and a sparkly gold necklace. Absolutely love it
07/03/2022
Rachel M.

United States
Shinies
I took a chance on this because it seemed like it would be a good deal. I got a pair of opal earrings and a gold chain. I was kind of hoping to get those opal earrings so that's a win there, but I was a bit disappointed at getting a plain gold chain. I thought I'd have to get a charm for it, but I tried it on for the heck of it and I actually liked how it looked on me like that. Now, I wear it almost everyday, and I only wore necklaces every once in a while before. If I remember right in total the items would have been around $300? So it's a good deal
06/20/2022
Mira R.

United States
Totally worth the money
I received pieces well over what I paid and they were beautiful. If you're considering buying it, just do it
06/09/2022
Genevieve L.

United States
Good deal
I got two gold rings, which is an amazing deal. I had bought two boxes, and both came with rings so that was the only issue as I was hoping for necklace or earrings as well.
05/13/2022
Jean P.

United States
Nice treat
Fun surprise. Got the crescent ring and sugar birthstone ring in amethyst. Delicate and great for layering. May try again because was a bit disappointed to not get to different types of items
05/12/2022
Taylor B.

United States
good purchase
An excellent deal!
05/11/2022
Aleisha M.

United States
Solid Gold Surprise Box - LOVE!!!
I ordered this not knowing what to expect and I could not be happier with what I received! I got 2 rings, the Sugar Birthstone Ring and Crecent Moon Ring, both of which I had considered buying before I received the surprise box! And they are worth $300 so the value for what you get is great! They are beautiful and perfect, I wear them together almost every day! If they offer these again to not hesitate to buy one for yourself or for a gift!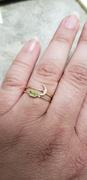 05/04/2022
Haleigh B.

United States
Yay!
I loved the surprise box! It was such a great collection to receive. Everything I got fit my style so well! I definitely recommend! I was a little worried that I would be shorted the quality or beauty with paying less for three things you didn't pick. When I received the box what it was so great and beautiful. I was glad to be proven wrong with my worries. Thank you all so much for my surprise box!!