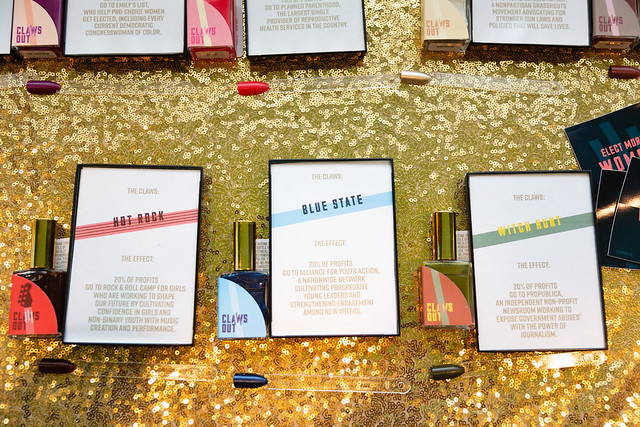 Eden Dawn (a rare born-and-raised Oregonian) balances her time between running her own charity-supporting nail polish line, Claws Out, and as Portland's Fashion Editor for the last decade. With a love for all things related to power fashion and the 1990s, she's provided shopping guides for Portland's vintage hunters, hung out in the glitter-filled closet of the world's oldest drag queen Darcelle, spent a day outfitting Tonya Harding in her old prom dress, and styled hundreds of fancy looks in (some award winning) fashion editorials.
When she's not writing or running a growing business, she's styling music videos for bands like Portugal the Man, guesting on daytime TV shows, and sitting on advisory boards for nonprofits. Any other moments are devoted to fun dates with her husband, attempting to appease their two semi-evil cats, talking about plants, and avoiding group texts.
What was your first Job…
My very first job was when I was 10 years old. My family built nursing homes and I spent a summer calling Bingo numbers in one of the dining rooms to earn what I thought was the highlight of fashion: a leather bomber jacket from Costco that l thought looked like it was from Top Gun.
Talk to us about how Claws Out came to be…
I've been a journalist for a decade (primarily a fashion writer) that often worked with non-profits doing things like emceeing fundraisers for them or helping in mentorship capacities. After the 2016 election so many groups I worked with were in overdrive and needed help from the Immigrant and Refugee Community Organization to Emily's List that trains women how to run for office to Planned Parenthood who are the largest reproductive healthcare provider n the country. I wanted to help more and give more money, but frankly, on a journalist salary I couldn't. My husband (who is a fantastic Creative Director) and I decided to use the skills we had to create a company with the primary purpose to raise money for things we cared about in a fun way.
How does Claws Out work with different nonprofits and organizations…
Each of our colors is dedicated to a cause and then we give 20% of profits to a group that supports that cause. For example, our "Reclaiming My Time" mauve goes to Cupcake Girls who help sex workers/women who've been sex trafficked get access to everything from finding a therapist to finishing their GEDs. Our "Cat Lady" orange goes to Pixie Project, which is a no-kill animal shelter that also has an onsite clinic for low income, and elderly pet owners to get medical care for their fur friends when it's usually beyond their means.
Additionally I use the flexibility of being my own boss to try to volunteer as much as I can. I've done everything from organizing closets in homeless shelters to just getting approved to volunteer in a women's prison job training class to help those folks be prepared for success when they re-enter society.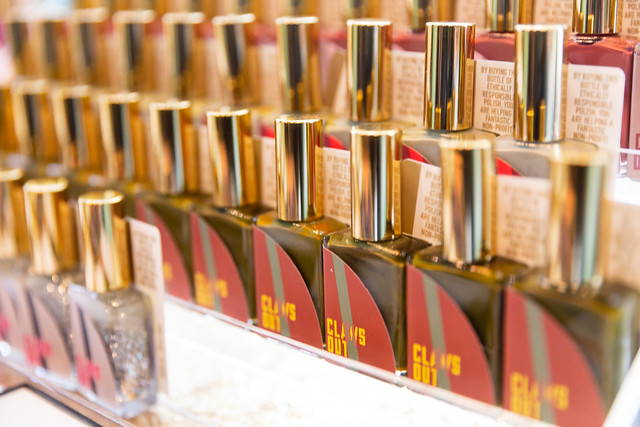 How do you choose the organizations you work with…
I get asked this all the time and it's as simple as: Are they a progressive group that is attempting to make the world a better place? Is it something I believe in and am willing to stand up for it?
Current favorite polishes…
All year I've been obsessed with our metallic gold Matriarchy color. It's gorgeous, looks good on everyone, and donates to Moms Demand Action who are educating, motivating, and mobilizing supporters to push politicians to enact stronger gun laws and policies that will save lives. But our brand new metallic teal Notorious color—named after the one and only Ruth Bader Ginsburg—might be right up there too. It donates to the Time's Up Legal Defense Fund that provides lawyers to women who've been sexually harassed at work, because how can we still be dealing with this?
Tell us why 'clean polish' is so important…
For us being an ethical company had to be in all facets, not just the donations. We are made in the USA; we're free of the 10 main toxins normally found in cheap nail polishes because we don't want formaldehyde and all that other stuff on anyone's body, and we're without any animal by products or testing. Some polishes use fish in them and most people don't even know. Every decision we made, we stopped and thought about what was the most ethical choice here. It means our polish is a little more than the drugstore brands, but we feel real good about all the steps in the process. And you can too.
Biggest lesson learned from starting a business or piece of advice for someone looking to start their business…
Biggest lesson I have learned from owning a gift heavy product is the amount of swing that will happen in fourth quarter. We do about 65% of our annual sales in the last 3 months of the year. I knew when we started that would be a busier time, but I had no idea how busy. Now I basically book out from October 1 to Christmas and am just prepared for the tornado!
What's next for Claws Out…
We just wrapped producing our first fundraiser working with the immigrant and refugee community here in Portland, Oregon. We had rooms with installations all run by immigrant owned business, an amazing fashion exhibit, cry-inducing stories from refugees on why they had to leave their homes, and an all POC owned pop up market. It was so gratifying and amazing that now we want to do it annually. In the meantime, I'm releasing our spring color collection this week, and hopefully taking a nap at some point.
Thank you Eden for sharing all the incredible and inspiring work that goes into creating and running Claws Out. Use code newcolors (all lowercase) at Claws Out to get NOTORIOUS, PRIDE, and FORCE OF NATURE for $35 with free shipping through May 18th! Nothing goes better with some gorgeous statement nails than a statement ring stack!