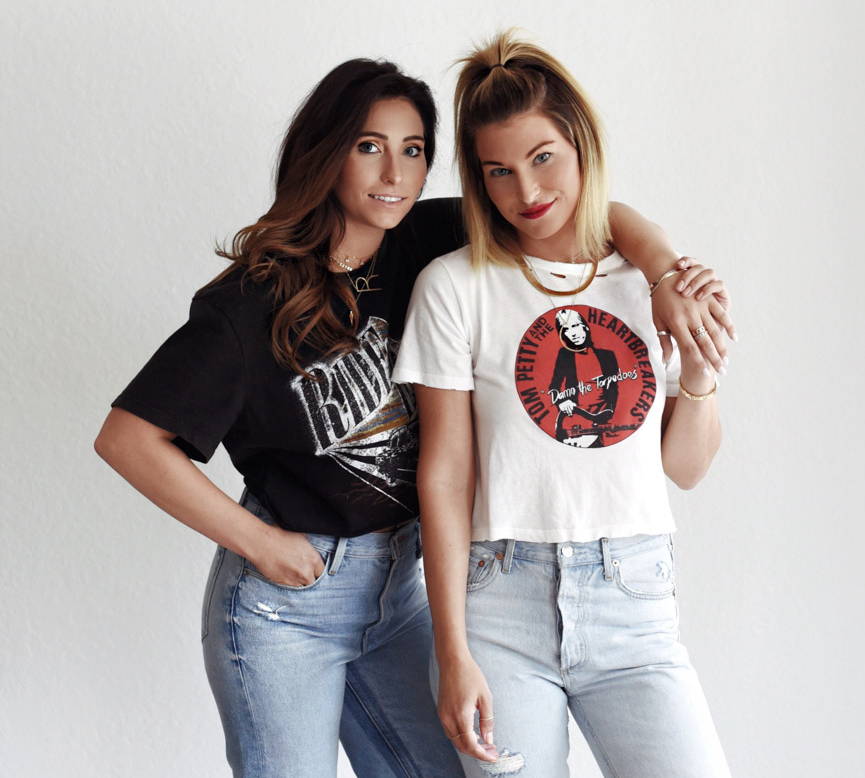 Ricki and Stacie are sisters, six years apart in age, but closer than ever today. These sisters have always been creative and fashionable in their own rights - Stacie is a Fashion Blogger and Graphic Designer while Ricki is a Digital Marketer. Expression through fashion has been a passion of both girls since they could remember - although Stacie recalls that Ricki's obsession started with Ricki stealing her clothes and jewelry. Love of jewelry, especially sentimental jewelry, is where this collaboration begins. Necklet is Ricki's invention and now the company Ricki and Stacie run together. Necklet is a magnetic layering clasp designed to keep stacked necklaces laying perfectly and untangled throughout the day and even night! Wearing multiple necklaces is easy and mess free with Necklet.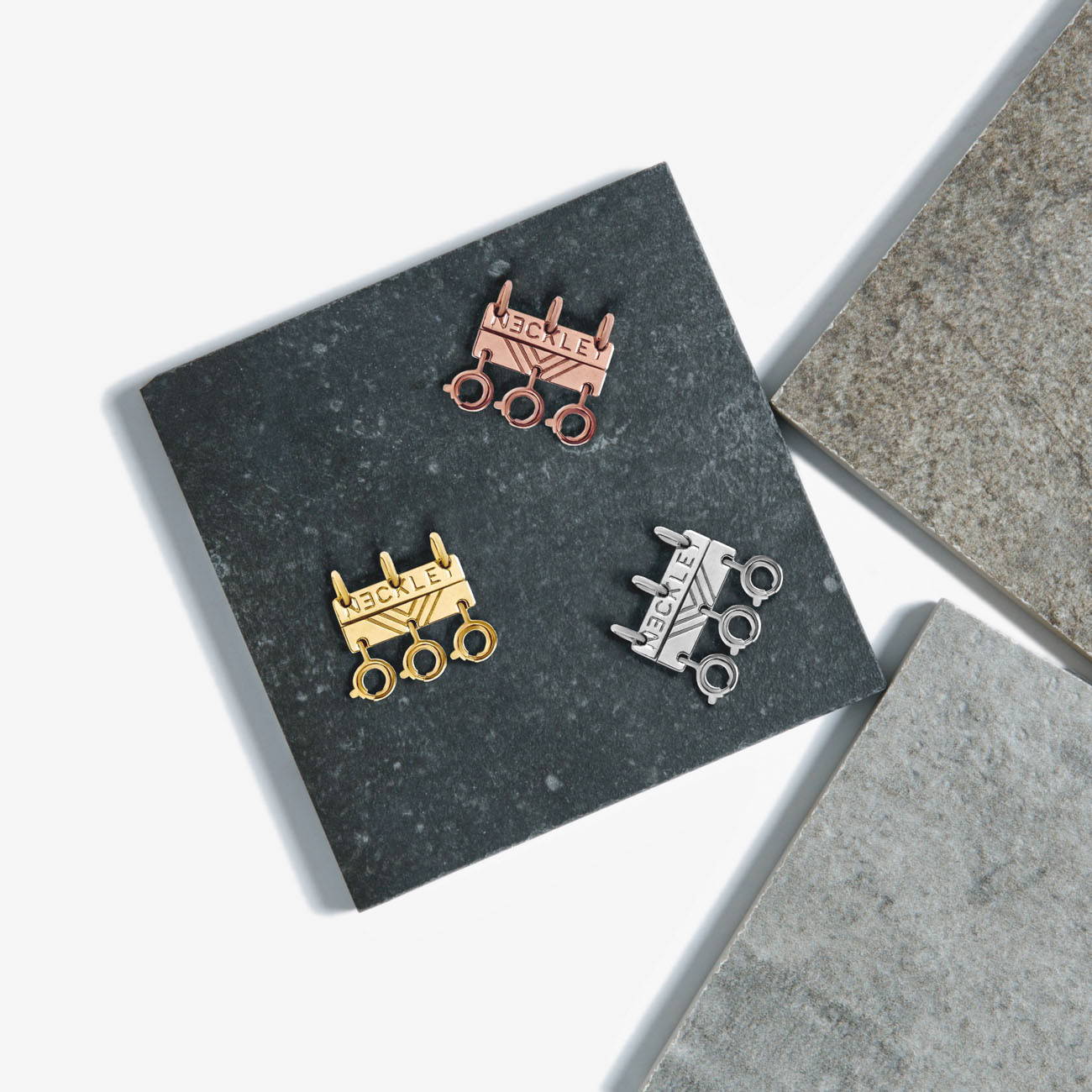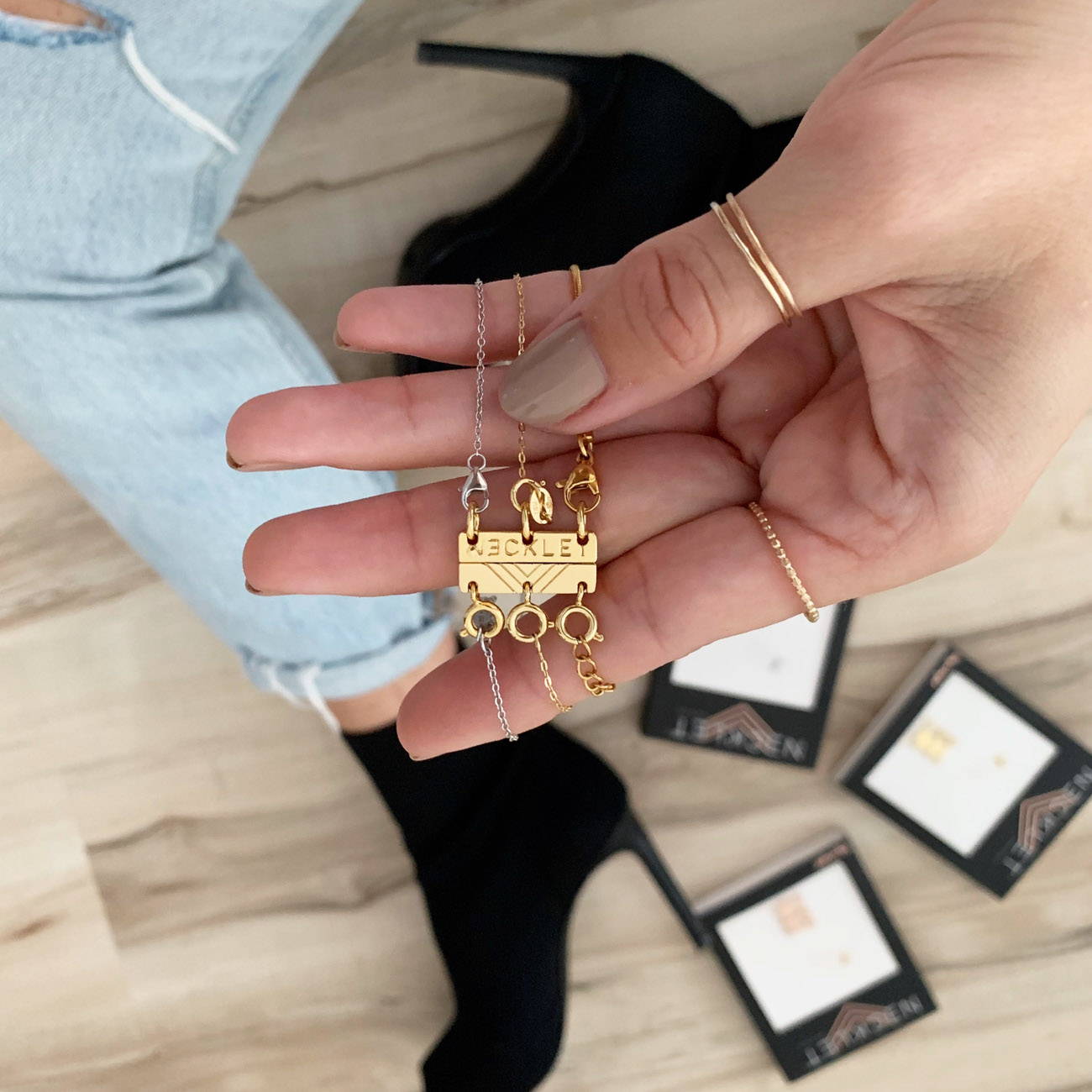 What was your first job?
RICKI:  In high school I worked at Charlotte Russe, and in college I worked as a Counselor/Cheerleading Coach at an all girls sleep away camp (Camp Danbee!!) during the summers.

My first substantial job was at Ann Taylor Loft where I was promoted to Manager after only three months of working there. That job solidified my passion for styling because I truly enjoyed helping women look their best. My following job in Affiliate Marketing essentially taught me the power of e-commerce and building brands online. Necklet bridged the gap between my love of fashion and my new found love of digital marketing.
STACIE:  I started working pretty young - I was babysitting at 11, Camp Counselor at 14, Lifeguard at 16, and "Sales Rep" at Abercrombie & Fitch at 17 (didn't everyone, lol?)
My first REAL job was on the Visual Team at Neiman Marcus styling the in-store displays and curating the window designs!
Tell us about Necklet? What inspired you to create this product? How did Necklet come to be?
RICKI:  It's actually pretty funny how Necklet truly became. I have always layered necklaces and in particular three dainty ones that I refused to take off - half because of sentimental value and half because of laziness, lol. However, I constantly had to fidget with and untangle them throughout the day; until one day I had enough!

My Fiancé and I were traveling to San Diego to visit his family. We went to get some dinner, and sat at the bar where I found my necklaces to be so tangled that it felt like I was being choked by them. My Fiancé literally had to break them off of my neck because the clasps were THAT knotted together. I was livid, and started googling on my phone if there was anything that could help. I couldn't believe a solution didn't already exist that could fix this! So I asked the bartender for a napkin and started drawing.

The next day I flew to LA to visit my brother and as soon as he picked me up from the airport I told him we had to go to the craft store because I needed to physically mock up my drawing. I tried it out that night and it worked! I was so surprised I was able to sleep in it then wear it to Disney the following day with no tangles! I was curious if this was something anyone else would find useful.

I called my best friend (my sister) who I typically always call when it comes to fashion, or anything really. I showed her what I created, explained it and told her how I tested it. She immediately was excited and really made me feel like this was something other people needed! The rest is history.
STACIE: Ricki randomly sent me a text one day with a drawing on a napkin of this idea she had for how to layer necklaces without them tangling, and then immediately Facetimed me holding up her homemade prototype and asked what I thought.
I told her it was GENIUS and not only did she need to apply for a patent right away but that I thought it could be a game changer in the fashion industry, and I wanted to be involved! I'm so thankful she brought me along and made me a part of this incredible brand.
Ricki's Local Eclectic for Necklet stack:
What is your current favorite jewelry trend?
RICKI: Layering of course! I layer everything from necklaces, to rings, to bracelets. I wear rings stacked on just about every finger, at least three bracelets, and my Necklet with maybe a 4th or 5th necklace on top. No such thing as too much when it's done right. I'm also a huge fan of mixing metals.
STACIE:  More is more! Obviously besides layering necklaces, I'm really into the ear party - ear cuffs, ear climbers, chain earrings, and wearing a stud on one side with a cool statement earring on the other.
What is the most surprising thing you've learned since starting Necklet?
RICKI:  That's a hard question to answer because honestly everything has been a surprise! Starting with an idea on a napkin and watching it come to fruition is still mind blowing. The most surprising thing I've learned has been through connecting with our customers - hearing from them that I've truly made a difference in some of their lives. I didn't realize how close I would feel to our customers and that we'd create lasting relationships with a lot of them. We are even more inspired and motivated than when we started!
STACIE:  The amount of moving parts to get a brand off the ground is astounding, especially an online brand! I've learned that you can't do it all yourself, and that it's necessary to delegate in order to not only cover more ground but to be more efficient where you add the most value.
Advice for future boss ladies?
RICKI:  Don't give up before you even start because you think it will be hard. It will be hard, but I promise you the end result is worth it. If starting a business and being your own boss was easy, everyone would do it. Have a vision, ask questions, research, educate yourself, and then take the leap of faith! Stay positive and try to look at every situation that arises, good or bad, as a learning experience. An inch of movement is better than a mile of intentions!
STACIE:  Be prepared to have your feelings hurt but don't let it slow you down, use it to drive you forward! When you are an owner your brand is your baby and its easy to take the negative criticism and feedback personally. It's not personal - everyone has an opinion but not everyone has a clue. And not everyone is you - taking a chance on yourself and going for it!
What's next for Necklet?
RICKI:  We are focusing our immediate attention on Necklet being the next breakthrough product in the fashion world! I truly believe we are on our way to becoming just that. I can say Necklet has many new products in the pipeline, some of which will be revealed very soon!
STACIE:  We have SO MANY ideas! We definitely want to expand Necklet into more avenues and products, other things are already in the works. For a little while longer though we want to enjoy riding the wave we are on and just make the Necklet layering clasp a staple in every fashionable woman's wardrobe!
Stacie's Local Eclectic for Necklet stack:
On behalf of everyone that has experienced the headache of untangling their favorite chains after layering, thank you for coming up with this incredible product! We can't wait to wear all of our chains hassle free!
Don't forget to show us how you layer, #localeclectic!
xo