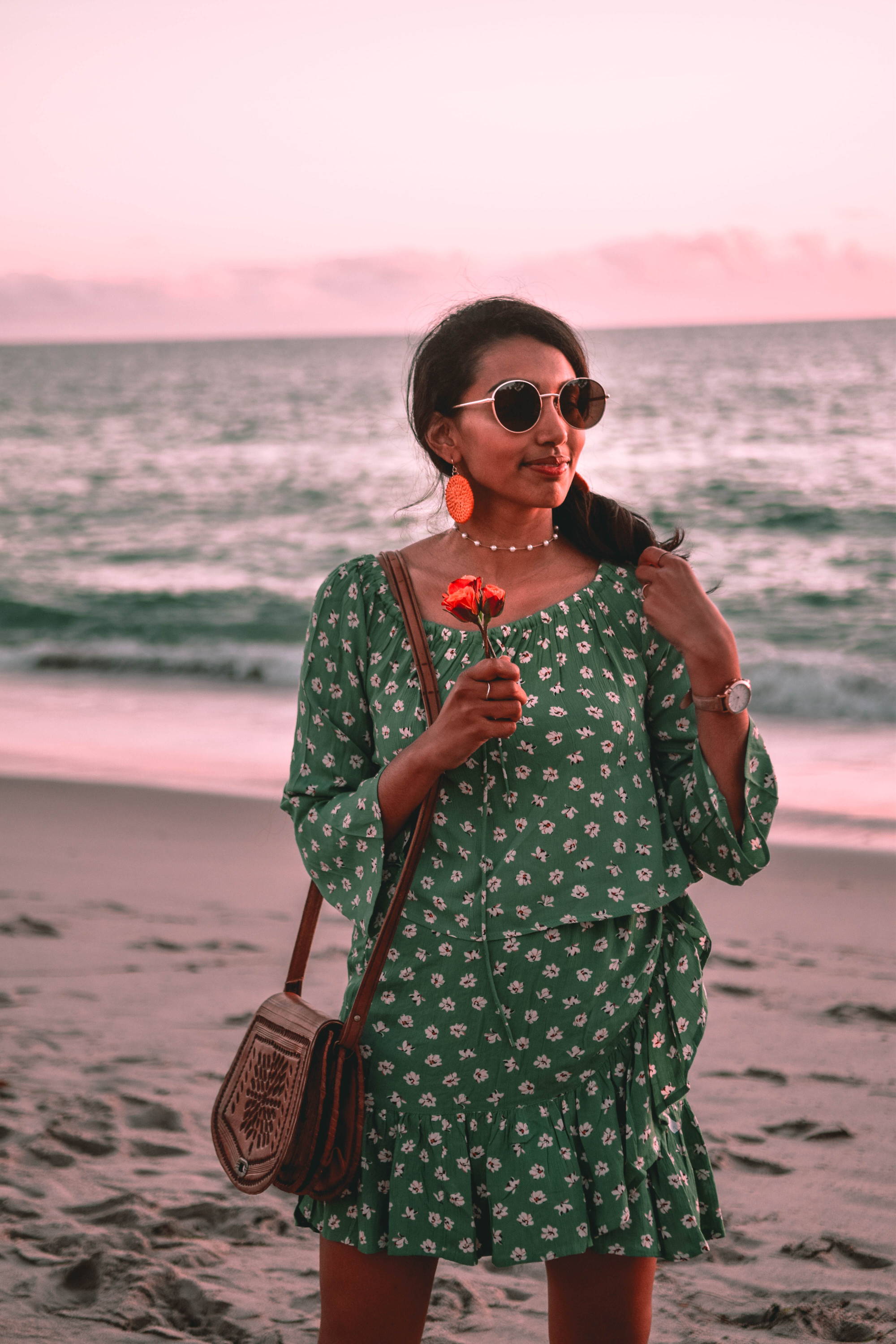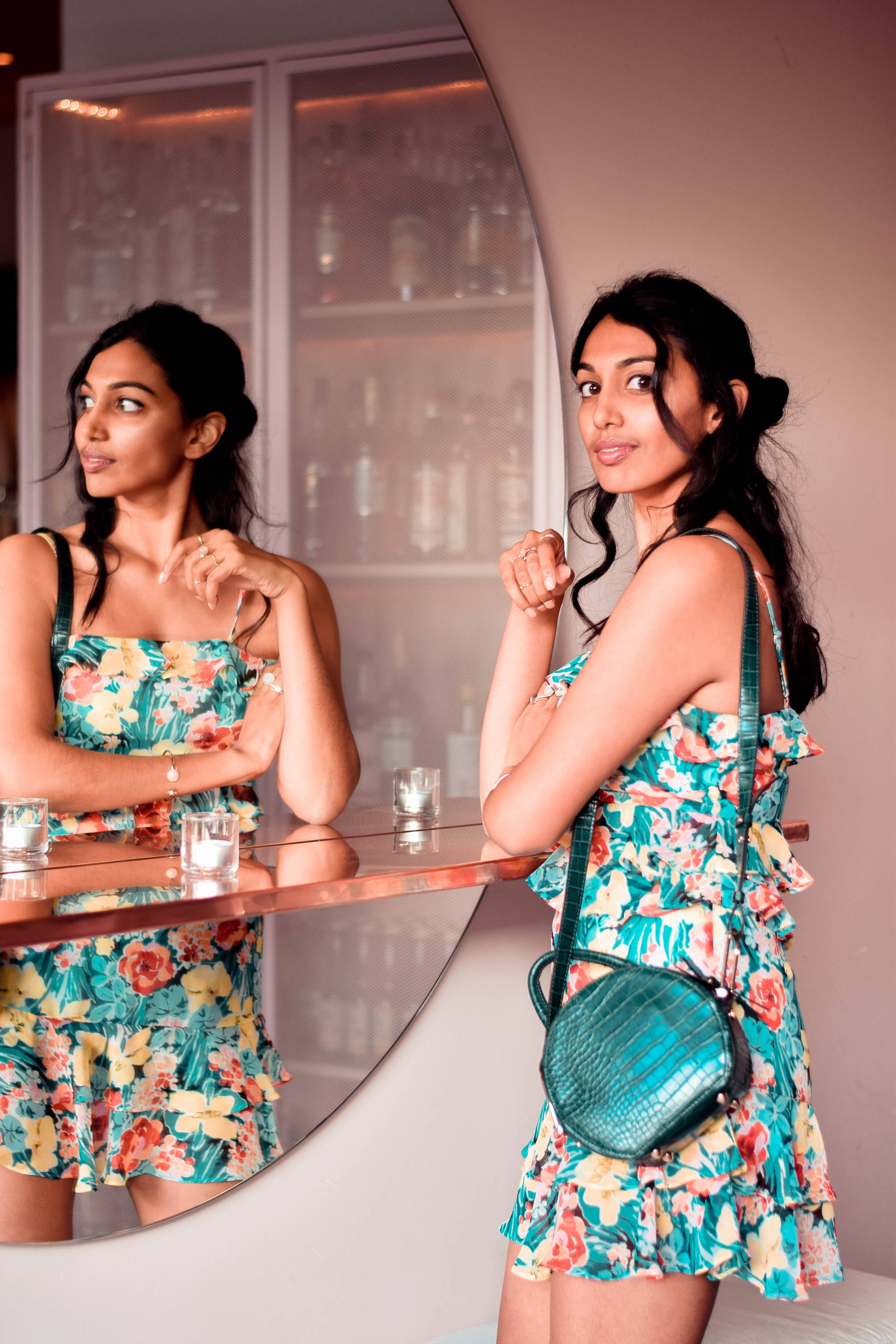 Tika (@tikabobika) is a lifestyle blogger, Two Dots in the Universe, and happily married living in Southern California. Accountant by day, and a creator on nights and weekends, she is self described as being "very clumsy, and slightly awkward." Tika loves being around people and making new friends! She joined the [social media] community over a year ago and has discovered her main niche is finding trendy, fun spots - and encourages followers to explore their cities, with style and confidence.
Infused Gin and Rosemary Syrup recipe:
1 cup gin, 6 cardamom pods, 1 cup sugar, 1 cup water, 2 rosemary sprigs, 1/2 cup grapefruit juice, grapefruit peel, prosecco
In a small airtight jar add gin and cardamom pods, store for 24 hours. Bring sugar, water, and rosemary sprigs to a simmer until sugar is dissolved. Remove rosemary and use right away, or store in airtight container in the refrigerator up to a week.
For the cocktail add 2oz of rosemary syrup, 3oz of cardamom infused gin, and 1/2 cup grapefruit juice over ice in a cocktail mixer, and stir. Using a strainer divide the mixture in two and pour directly into glasses filled with ice. Top with prosecco and garnish with a fresh sprig and grapefruit peel. Cheers!
Best drink spot:  There are some really awesome, trendy spots starting to pop up in Orange County. Costa Mesa, Newport, Laguna Beach are all great places to explore for different experiences! I live in Irvine, which is true suburbia - families and more families, so it's a little more difficult to find those trendy spots. I really like Habana at the Irvine Spectrum. It's a super colorful Cuban restaurant with yummy drinks, aesthetically pleasing decor, and a great atmosphere!
Top trend of the moment: Talking jewelry - I think the top trend would be the stacked look, whether it's rings, bracelets, or necklaces. I think multiple jewelry pieces can really make an outfit pop and sparkle! I'm personally drawn to gold and rose gold pieces, with interesting details. I fell in love with your brand because not only is the style of the rings so unique, but the details are just breathtaking and really pretty!
Favorite travel destination:  Portugal is hands down my favorite country in the world! The architecture and the culture are so colorful and interesting. Every street is filled with beautifully colored tile buildings and pastel painted walls. A very inspiring city to explore. The people are the best - so proud of their culture and so excited to share it with new people. I found them to be so welcoming! If you ever find yourself in Portugal, make sure to try a fresh pastel de nata!
Hidden gem in your city: This is my niche: finding hidden gems in my city! The beautiful thing about Orange County is that each city has its own personality. South OC is so different from North OC, this is a hard question because I want to list a million! My favorite is downtown San Juan Capistrano. There's a hidden street behind the train tracks, [with] cute little cafes, small boutique stores, and coffee shops. On the other side of the tracks, there are cute little wine bars and restaurants. A great spot for a day trip!
Thanks Tika! Some jewel inspo below, we'd like to take these rose gold babies on vacay to Portugal...
xo