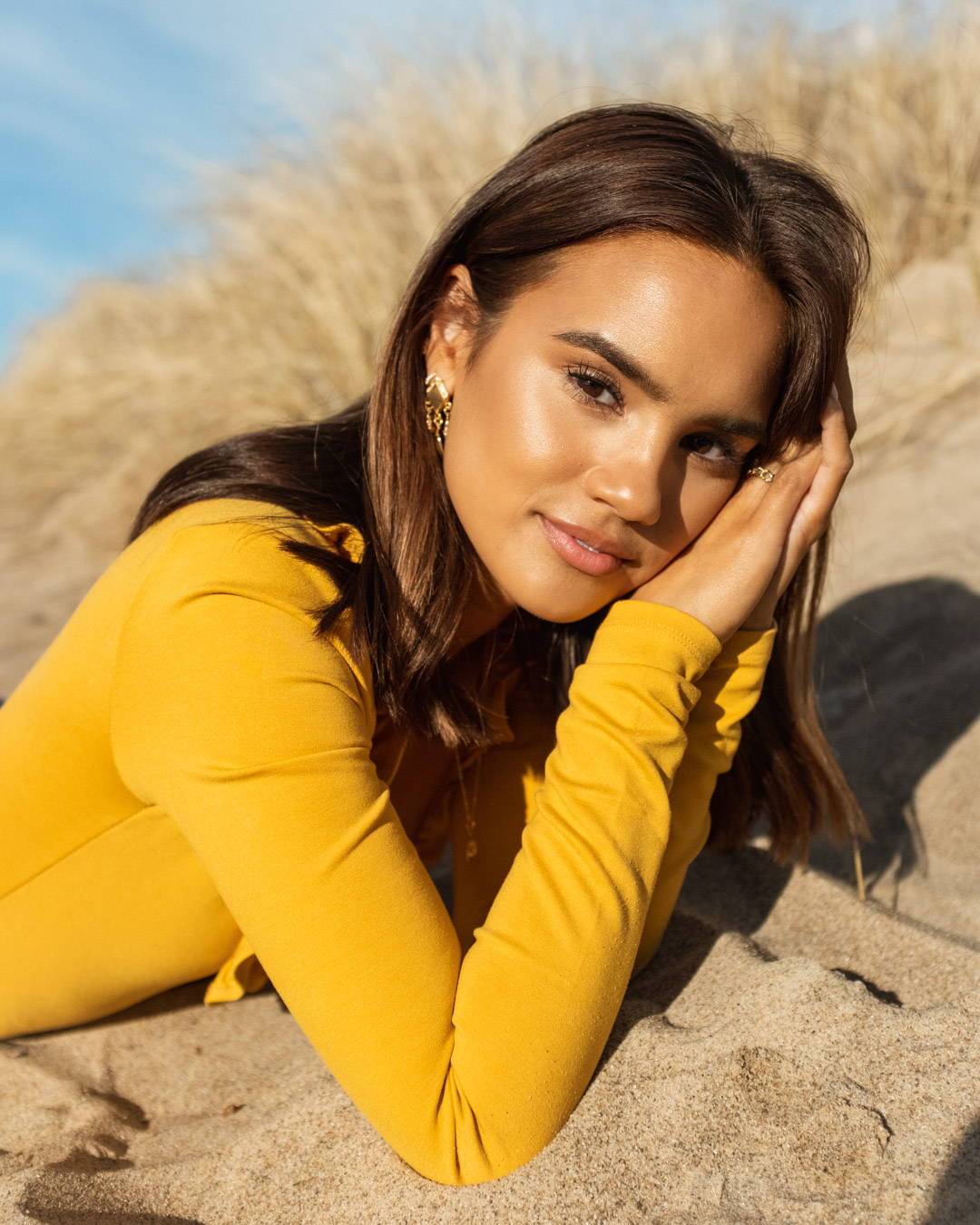 Dacey Cash (@dacey_cash) is a beauty, lifestyle and fashion vlogger with a passion for teaching techniques through her tutorials. She loves meeting new people, spending time outside and discovering exciting things to share with her followers.
Dacey has a younger sister with Down Syndrome and also uses her platform to share her life with her sister, hoping to bring to light the importance of accepting individuals with disabilities and their stories.
Can you tell us a bit about your path to create and grow your Instagram and Youtube personal brand?
I really found my love for makeup when I was a young girl because my mother was a Mary Kay lady, and she would let me play around with the giant makeup kits! Then when I was in high school I found out about Youtube and stumbled upon beauty channels. I was so intrigued by women creating tutorials and sharing product recommendations that I wanted my own channel. I started my channel the summer after I graduated high school as a way to fill up time with my passion.
My channel and Instagram really grew into something bigger because I never gave up on them. I'm truly so passionate about creating content that even when I felt like I wasn't getting anywhere, my viewers made me feel like I was actually helping them with my content. I've always looked at my channel as a way to help others solve beauty related problems, teach them new techniques and share everything I'm loving at the moment!
Where do you draw your inspiration for your Instagram and Youtube content?
I draw inspiration from celebrity makeup artists, movies, photography, other women I see in the city... I find inspiration everywhere!
As a beauty guru, what should we be doing right now for our skin?
Right now, because it's summertime you have to be using an SPF on your face! Even if it's a cloudy day, the rays are still penetrating your skin! I really believe it's the best thing you can do to keep your skin looking healthy and young. Also, ALWAYS be moisturized!
Tell us about your favorites for this summer:
Dior Face and Body Foundation: This foundation is amazing because it looks so natural and skin-like with buildable coverage. It's quite a fluid formula, you can easily apply it with your fingers and it sets down to a soft radiant satin finish. It has great staying power, making it perfect for summer sweaty days.
NUDESTIX Bondi Bae: This is a cream bronzer that even a beginner can use! It has such a gorgeous caramel golden undertone to it, making it perfectly mimic a suntan. I love how it applies so creamy onto the skin but then sets down to a natural matte finish that doesn't budge. I just apply to my skin where I want some bronze and then gently smudge it out with my fingertips to help warm it up as I blend.
Lancome Set It & Forget It: This is going to be your best friend in the summer time. You can spray it on before makeup application to give your products a little something extra to grip to. Once you've finished your makeup the mist will take away any powdery or cakey finish to the skin and make your makeup last all day or night through the heat. I swear by it!
Tretorn Canvas Tennis Shoes: I wear mine almost every single day! The white ones go with every outfit and I can throw them in the wash whenever they get dirty.
Reformation: I love their sundresses! I live in dresses during the summertime because instead of having to piece a whole outfit together I can just put on a dress with some accessories. Good to go!
Any favorite travel destinations or places you've visited?
My favorite place I've ever traveled is Oahu, Hawaii. I've never been anywhere so magical! Most recently, I went to Hawaii last year and visited the house my dad used to live in while he was in the Marines before I was even born, that was really special!
My boyfriend and I also frequent New York City because we find it very inspiring. I love being around a lot of people and having the ability to walk everywhere. I love how when you're in New York you can always find something to do.
Tell us about your personal style…
My personal style is eclectic but casual. I like mixing different pieces from beachy boho styles, Parisian styles, and more classic structured pieces. I want to look put together but not too dressed up, I'm a dress and sneakers kinda girl.
My style icon lately has been Rocky Barnes. I love how she styles statement pieces to look more approachable and effortless!
 
Any hidden gems from your hometown that you can share?
My hidden gem in Chicago is a little Mexican Restaurant called Tuco & Blondie. My boyfriend and I practically live there in the summertime because they have the BEST margaritas, ever. The food is amazing, and the atmosphere is chill. We love hanging out on the outside patio with friends eating chips and guac. Right next door is Jeni's Icecream which is another favorite, I can't walk by without getting a scoop of lavender ice cream!
What's next?
One day in the future I would love to have a personal care or lifestyle brand of sorts! I love experimenting with body lotions, oils, washes and all of that fun stuff. It would be nice to have something of my own that's more environmentally friendly in terms of packaging and ingredients. I'd love to collaborate with other brands one day too! Maybe a line in collaboration with accessories or clothing :)  
Thank you so much for sharing a bit about how you created and grew your personal brand Dacey! Shop some of our favorite summer jewels!