Laura Martinez @nothingwildtattoo is making her mark in Brooklyn one tattoo at a time. Read on to learn more about the inspiring French born tattoo artist, and how she persevered though multiple countries and jobs, to co-own the world renowned Fleur Noire Tattoo Parlour.
On childhood:
I grew up in France in a city called Sartrouville. Nothing chic or glamorous like people think of Paris, more of a poor area. I grew up knowing about being careful, about not walking by specific places, not going out by myself at night. My city was a beautiful mix of what France truly is: families coming from French islands, Martinique, Guadeloupe, La Reunion, etc, and old French colonies, Algeria, Morocco, Tunisia, Ivory Coast…
I loved growing up there. Thinking of it makes me happy, I never want to forget. It's where my fascination with different cultures, music, jewelry, symbols, etc started.
On becoming an artist:
I always wanted to make art, build things, draw tattoos when I was 10 that I could get tattooed when older - I still have tattoo books that I drew from this time! We lived in front of a government building for African immigrants. I loved talking to them. They would invite me for tea when I was still in school, and that's when I got interested in learning where people come from, their stories, their heritage. I knew that's what I wanted art to bring me.
My parents have been incredible and always supported me the entire time, even though my ideas were crazy sometimes. I cannot thank them enough for their faith in me.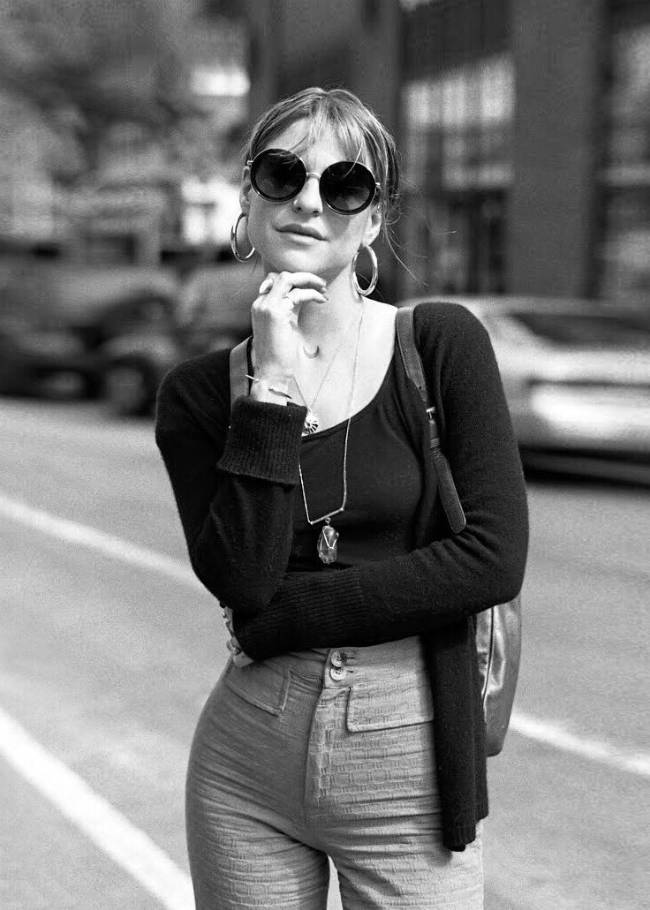 On opening her own shop:
I never thought about becoming a tattoo artist, even though I started to get tattoos as early as I could, when I was 17. After college, I designed in Paris for Dior and quickly learned that kind of corporate environment was not for me. The spirit around luxury brands wasn't feeding my need for freedom and inspiration.
One summer, my best friend went to New York, and I decided to quit my job and go travel with him. I discovered one of the most incredible cities, I fell in love with New York City. Meanwhile, I met an American man on the stoop of the building I was staying at. And… I fell in love with him! We wanted to stay together, and as crazy at it might sound, we got married 6 months later. Feels like a true love story movie talking about it!
I started working as a waitress while waiting for my green card. With my master's degree in my pocket, it seemed absurd - but I absolutely loved it. Meeting people, having a flexible schedule, moving all day, improving my English… I found a family in this bar.
I started to draw, at home, during my time off from the bar, a lot. Drawing Malagasy symbols, geometric shapes, organic designs, and my friends would get them tattooed. I decided to start an apprenticeship at a tattoo studio. I discovered the real world of tattooing and how it is to work in an old school tattoo shop. It takes a lot of humility to gain the respect of old tattooers and teaches you to put your ego on the side and learn.
After a year, my mentor suddenly disappeared. He committed a crime and got put in jail. Unbelievable right? I decided to travel for 6 months with my husband to celebrate my green card. When we came back, I started working in a new tattoo shop. My clientele was getting crazy. I was tattooing all the time, and very quickly, my schedule started to be booked up. My husband and I were talking about opening our own shop someday, but I never thought it would happen so fast (3 months!). I met Burak Moreno, a fellow tattooer, and we decided to open a shop together. I had clientele and a specific style, and Burak had the tattooing experience. Fleur Noire Tattoo Parlour opened its doors in the fall of 2016.
Two years later, we have two locations and 25+ employees, coming from everywhere in the world. It was challenging and happened very quickly, but life is about taking opportunities and risks!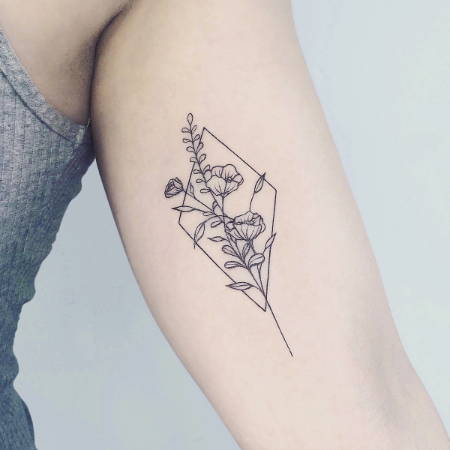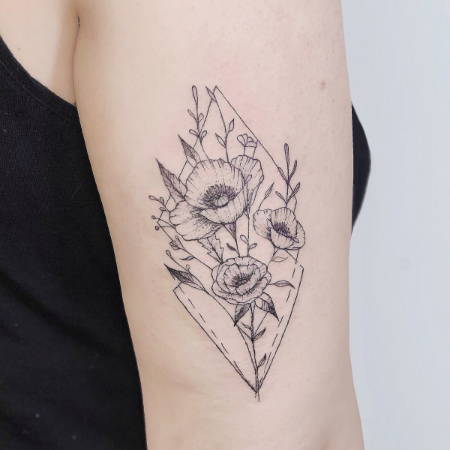 On her tattoo style:
My style is mostly 'fine line', which is more of a technique but it explains the aesthetic, too. I love working on tiny details, lines, geometry. I do a lot of delicate tattoos and lines with flowers, thin scripts, and organic designs.
I usually work on custom designs based on what my clients want and describe to me about their life. Sometimes its due to a trauma, a family event that is a difficult one or a happy one. I'm happy to conceptualize these important life moments for them in the form of a tattoo.
I also do designs that don't have any meaning but are based on nature, landscapes, animals. I always listen to what my clients want and am usually good at understanding quickly what they need. Then I sit down, research, look at books… and I draw!  
What she misses most about living in France:
Of course my family and friends! I am very close with my family and I have a real circle of friends there. Thanks to social media it feels a lot easier to be far now! Though what I truly miss and that no internet can bring me, is the food…! I miss the smell of the bakeries in the streets, I miss baguettes and cheeses and my parents home cooking. Which is why I need to go back often!
Shop Laura's Local Eclectic Favorites: