Meet the Muses: Grace Atwood & Becca Freeman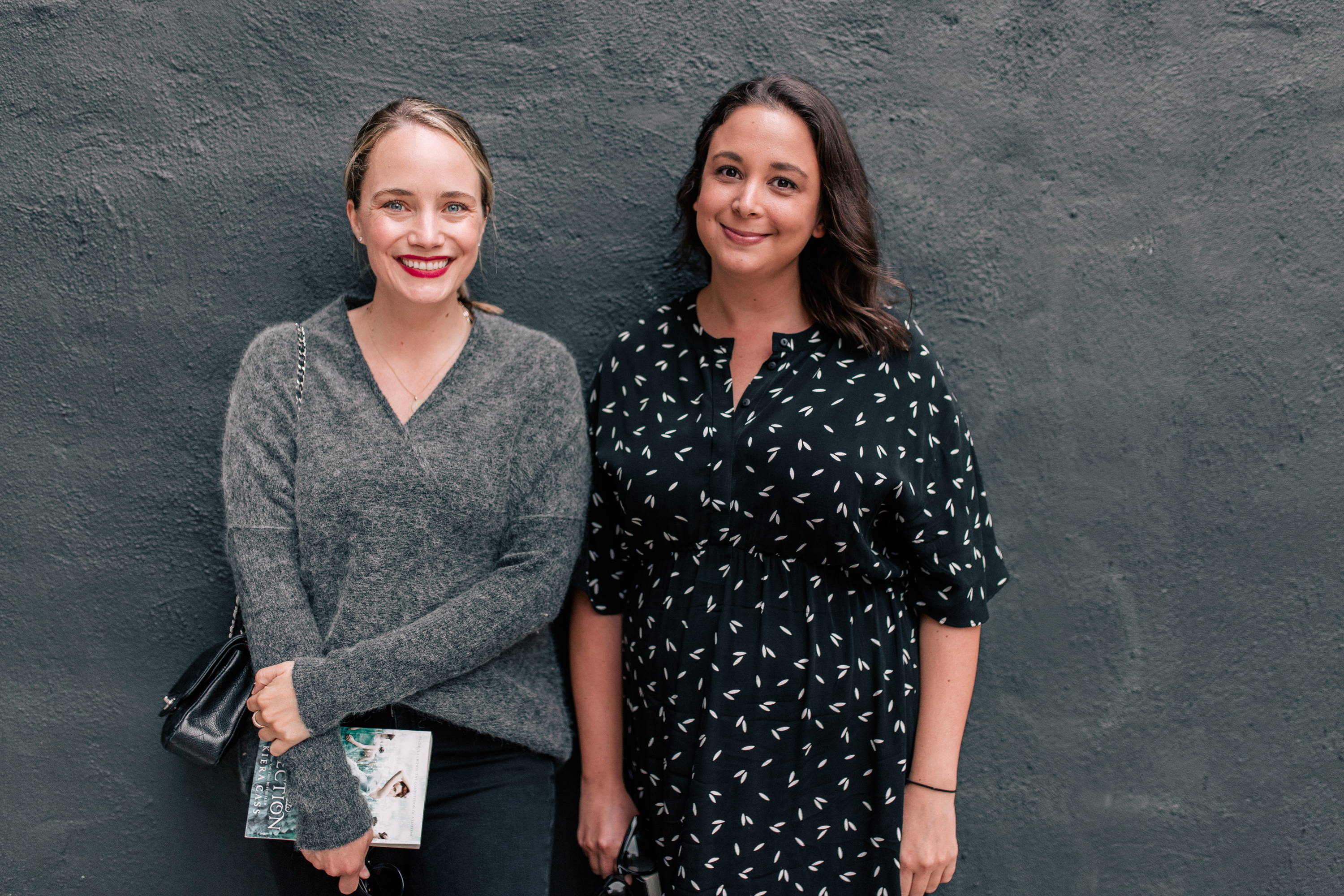 Meet muses Grace Atwood and Becca Freeman, the voices behind the witty, relatable podcast Bad on Paper. The ladies discuss their favorites, and shine a light on their journey.
Grace Atwood is the founder of The Stripe, a lifestyle blog for stylish bookworks, and co-host of podcast Bad on Paper. Grace grew up on Cape Cod, which she credits for her love of the ocean (and probably a nautical stripe or two). The blog began in January of 2010 (originally Stripes & Sequins), born out of a love of fashion, beauty, and making. In 2019 she was named one of The Daily Front Row's 50 names to know right now. Outside of work, Grace's passions include food, wine, art, yoga, reading, her Persian cat Tyrion and exploring everything New York and Brooklyn have to offer.
Becca Freeman is the co-host of Bad on Paper podcast, a weekly podcast with a dose of books, banter, and folks you should be following. She's also a freelance marketing consultant in NYC. Previously, she was the Head of Marketing at LOLA. When not working, reading, or podcasting, Becca loves plane tickets, red wine, and 30 Rock reruns and has never met a dog in a costume she hasn't liked.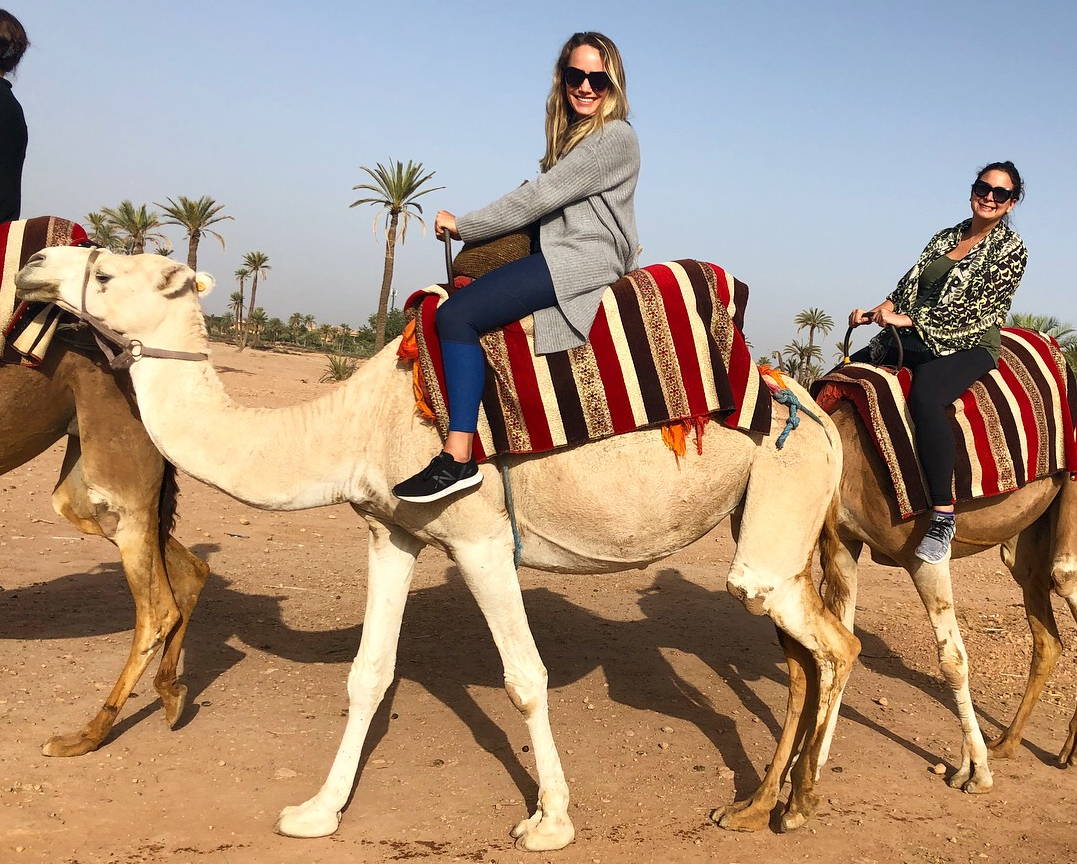 What was your first job?
G: I was an assistant buyer for Filene's (now a part of Macy's) in Boston. I worked in women's fragrance and fell in love with the beauty industry.
B: My first job was in financial consulting. It took me a few years post-college to learn there were jobs outside of doctor, lawyer, or vague business person. My mind was actually blown when I realized you could have a career in fashion.
How did you meet?
G & B: We worked together at BaubleBar. At first we didn't get along, but quickly we were so close (and boisterous) that they needed to create a new seating chart because we were creating a distraction by sitting next to each other.
Do you have a favorite guest - and/or dream guest?
G: It's literally impossible to pick a favorite guest! We've had so many incredible women and men on our podcast. Anyone we've had on so far has felt like a very big get for us… we are incredibly grateful and I CAN NOT CHOOSE!
B: My fave so far was probably Katie Sturino. She came on around new years and she gave us some amazing advice about body confidence - you don't always have to be body positive; body neutrality is also a goal. It's unrealistic to feel relentlessly positive about your body at all times. My dream guest is Alison Roman. I just read her cookbook, Dining In, and feel like we could be best friends. I'd definitely fangirl if she came on the podcast.
Grace's Local Eclectic Picks:
Who are your current favorite follows?
G: So many! Lately I've been following more comedians as I love a little laughter in my feed. I have to be honest, I've gotten a little tired of following fashion bloggers - unless they're doing something really special and unique (like @blaireadiebee) or have a unique perspective and show their personality (like @jessannkirby, @the12ishstyle, and @chinaealexander) I'm a little bored. So it's becoming all comedians and cats like @nachoflay! I'm also loving @Hithapalepu's #5smartreads series on Instagram stories.
B: About half the Instagram accounts I follow are dogs. I love @stacks_thelongboi, @boopmynose, and @weratedogs. But if we're talking about non-dog follows, I'm super into @lucialitman, @ananewyork, and @evachen212 and for laughs I love @dietstartstomorrow - it's like they're reading my mind.
Any advice for those trying to get into the fashion/lifestyle blog world?
G: Be prepared to work really hard. And going into it you should either have a business plan or plan to do it as a hobby. I think the reason why so many early blogs were successful is that we didn't get into it for the money; we came at it from a place of genuinely just wanting to share! It was just a hobby at first and it grew really organically. But I did a whole blog post full of blogging tips here. It's a couple years old but still rings true.
B: I have no idea. But from watching Grace, i can tell you it's a lot more work than it looks like (or she gets credit for).
Where do you go to draw inspiration?
G: Pinterest, Instagram, art museums, walking around New York!
B: Mostly IRL friends and Instagram. Let's pretend inspiration gathering is why I constantly blow through my 90-minute daily social media timer on my phone.
Becca's Local Eclectic Picks:
What are your 3 to 5 favorites?
G: Dr. Bader Face Cream, Beautycounter Brow Gel, and Good American Jeans, Sarah Flint Heels, and Chantecaille mascara! And yoga at Sky Ting. Christopher Golden is my favorite teacher… he's amazing.
B: Olaplex step 3 hair mask has completely changed my hair, I dream about the cacio e pepe at Vic's in Noho, I've been a diehard fan of New York Pilates for years - it's one of two workouts that I don't get bored with, and I recently got a Lele Sodoughi headband that I can't stop wearing on repeat.
Where are your favorite travel destinations?
G: So many! Southeast Asia was incredible, Marrakech, and Greece are all of my favorites. Domestically I'll never get sick of Charleston and I'm dying to get back to Big Sur someday.
B: I've been to Mexico City twice in the past 6 months (very much breaking my no repeat travel destination rules - but it was worth it). I was in Lisbon and Porto this summer, and definitely want to do more exploring in Portugal. When you just need a beach/spa break, nothing beats The Breakers in Palm Beach.
Do you have a favorite hidden gem in the city?
G: There are so many! I always say that Saint Anselm in Williamsburg is such a hidden gem as it's the best steak I've ever had, but they don't take reservations and it's super low key!
B: I'm obsessed with D'españa for an afternoon tapas break and glass of wine while shopping in soho. It's a Spanish grocery store with a little cafe in back with incredibly good food.
What's in store for the future?
G&B: We've been so humbled to see our podcast grow so much this year, and we have our first live show in NYC in April. Hopefully this is just the beginning - more growth, more live shows in other cities, more amazing guests!
Thanks for sharing ladies! We can't wait for the next episode! Don't forget to tag us in your LE jewels! #localeclectic
Speaking of jewels...
---