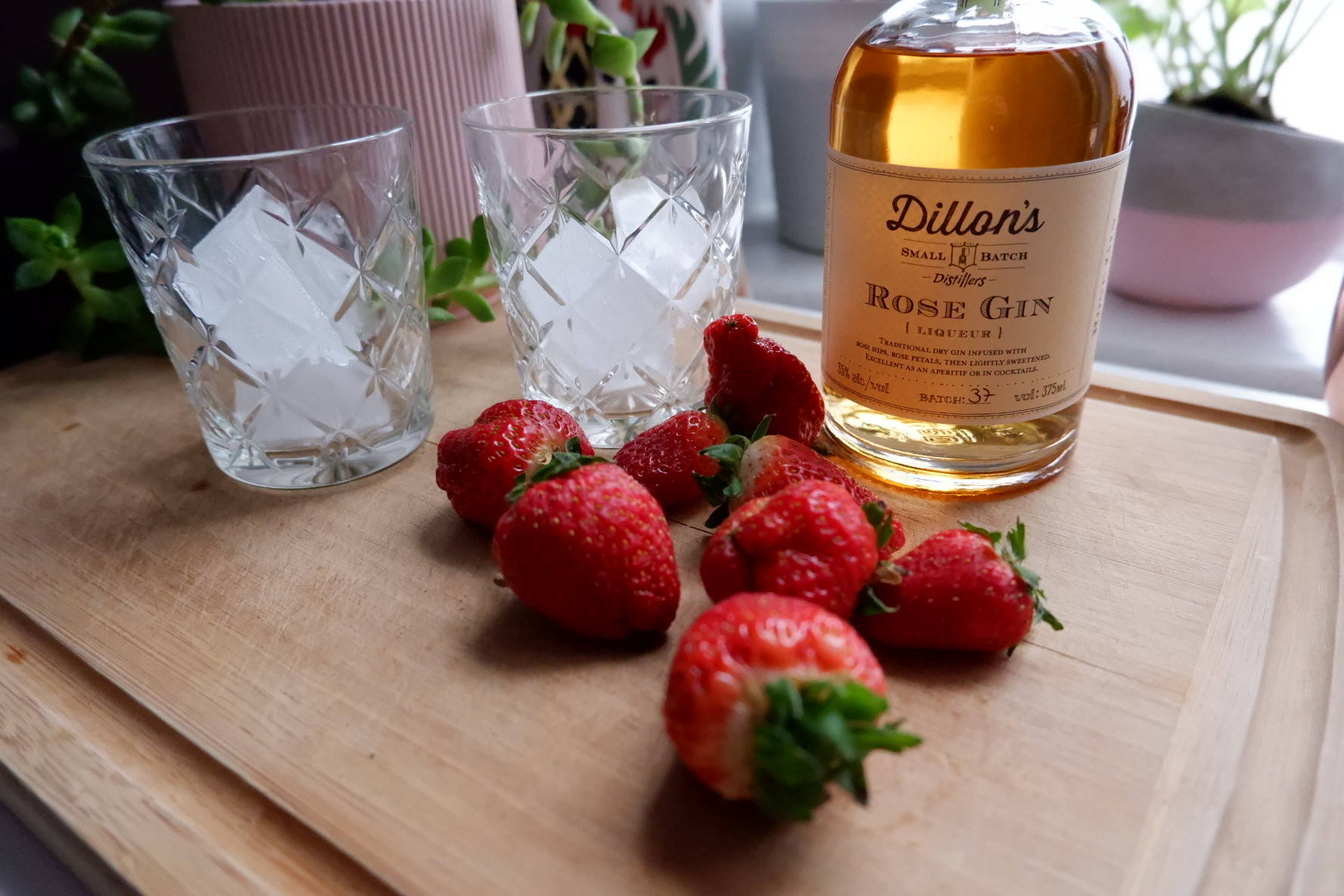 Currently pursuing her post grad in advertising media management, Amanda loves all things media and advertising related, especially on social platforms. She shares a mix of skincare, beauty, and style related content on her instagram @littlelillis. Her personal style is very eclectic, and often thrifted. Amanda currently lives in Toronto, Ontario, but hails from one of the smallest cities in Canada, near Alaska. She loves living in such a vibrant city and exploring the little shops and local restaurants. At the moment she's working on a blog where she can share her skincare care reviews and experiences in more detail.
Strawberry Rose Gin Fizz Recipe:
1 oz Dillon's Rose Gin, 2-3 oz tonic water, 1/2 lemon, fresh strawberries
Cut the tops off a few fresh strawberries and muddle them together with the juice of half a lemon and the gin. Add ice and 2-3oz of tonic water to taste. Garnish with a fresh strawberry - and enjoy!
Best drink spot: The Hole in the Wall. A local Toronto spot that truly is a hole in a wall, and very easy to miss while walking down the street. Inside, it has the feel of a vintage lodge and it serves up some of the best cocktails I've had in the city!
Top trend of the moment: I'm really loving the minimalist style for clothing, interior spaces, and jewelry. I also love that more small businesses are offering affordable and ethical options.
A trend in skincare that I'm really embracing and endorsing at the moment is the 10 or 5 step Korean skin care routine.
Favorite travel destination: It's been a while since I've gotten the chance to do any real traveling, especially because of school, so lately I love going to Victoria, BC (in Canada) to visit family and take a break from the big city. It's a small coastal city with tons of lush greenery and cute local shops.
Hidden gem in your city: Call me biased, but I would consider my neighborhood a hidden gem. I live in the Junction, a northern Toronto neighborhood, where the streets are lined with antique furniture shops, local restaurants, curiosity shops, and even a weekly farmers market. It's considered to be far from the downtown core of the city, but well worth the trip.
Thanks for sharing this strawberry boozy delight Amanda! Now we need some fun accessories to go with this adorable cocktail...