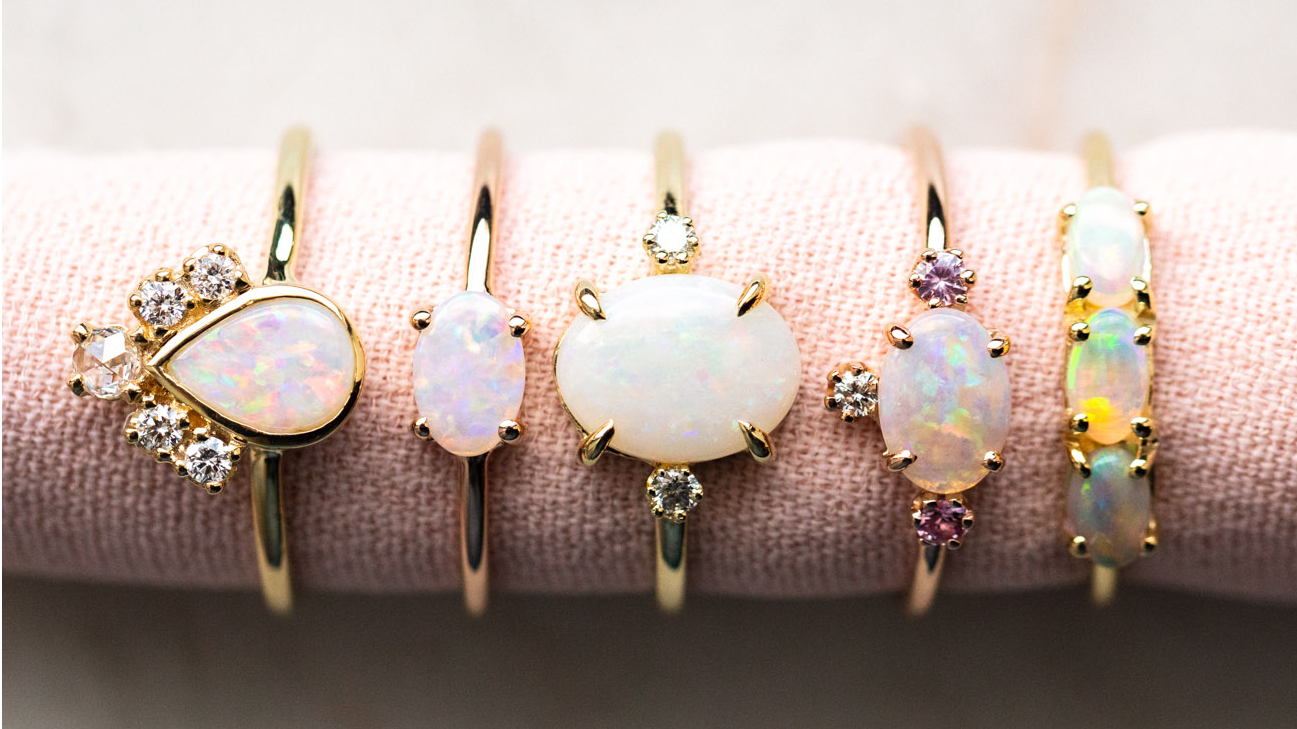 The majestic birthstone of the month of October, the opal is a stone full of fiery, opalescent, kaleidoscopic glory. A symbol of faithfulness, confidence, and loyalty - opals are said to ward off evil, stabilize emotions, and can even protect eyesight. The magical stone is believed to have the ability to release inhibitions, and amplify emotions. The lore, allure, and healing properties of opals are vast and varied, and they continue to be one of our best selling stones due to their mesmerizing beauty.
Opals range from 5 to 6.5 on the Mohs scale, which means they are soft as far as gemstones go, so wear with care! The safest way to clean opals is with a soft cloth and warm soapy water. Steer clear of harsh detergents, chemical cleaners, and other household products. Take care to remove your beloved opals before cleaning, bathing, or going for a swim to ensure they'll stand the test of time.
Types of Opals
Natural Opal: Approximately 90% of opals come from Australia. Other than cutting and polishing, natural opals have not been treated, heated, or altered in any way. No two opals are exactly alike, and no other gemstone on earth can display all colors of the rainbow like a natural opal can.
Synthetic Opal: Synthetic opals are more porous than natural ones, and are therefore much lighter in weight than natural opals. They are lab created, and have a regular color pattern, almost like suspended glitter. Natural stones exhibit a more organic shimmering color pattern.
Doublet Opal: A doublet opal is a layer of natural light opal bonded to a black backing, simulating a black opal. Doublets are typically more expensive than triplets because more natural opal is used.
Triplet Opal: A triplet opal is a very thin layer of natural light opal that is bonded to a black backing, and has a protective crystal dome glued to the top that gives the illusion of a natural opal cabochon.
Don't forget to tag us for a chance to be featured on our instagram! #localeclectic
---