Customer Reviews
Write a Review
Ask a Question
Filter Reviews:
earrings
pair
studs
pieces
other
surprise
gift
email
hoop
variety
Surprise Box!
I love the two surprise pair of earrings I got from LE! Very cute and trendy, and a great price!
01/11/2022
Denise L.

United States
Overall very cute earrings
I bought these as gifts for my daughter and daughter in law. All but one set of the earrings were lovely.
01/10/2022
Marissa B.

United States
Pretty nice
I got my new favourite earrings in this box
12/27/2021
Lauren C.

United States
super fun
love both pieces i got - they look great together and are pieces i probably wouldnt have chosen for myself
10/13/2021
Emilie G.

Canada
Decent
Came with two fun costume jewelry type earrings. Not real gold but still fun. Will definitely wear.
09/20/2021
Elizabeth S.

United States
Fun!
It was a nice surprise. I kept one pair of earrings and gave the other as a gift.
08/08/2021
Liza M.

United States
Adorable surprise!
I got mini huggie hoops with little pearl accents and studs with a flat rose motif which i wouldn't have picked for myself but i ended up really liking how they look in my second piercing pair with a plain hoop in the first. I really like that the pieces are high quality, but i don't like that there was no information to tell me about the materials the earrings were made from.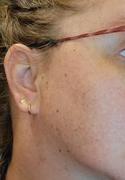 08/05/2021
Courtney A.

United States
So cool!
I love a surprise to begin with and these were great! A nice variety of a dangle style and a stud. So cute and fun!
07/30/2021
Jessica R.

United States
Great Box and Fantastic Customer Service
The surprise ear box is a really fun way to get something that you like but wouldn't have necessarily picked for yourself. Both of mine were studs which I prefer and one pair was exactly the kind of thing I would pick, while the other was still super cute. Also the customer service was amazing. My first box was lost in the mail and as soon as I reached out, Local Eclectic responded the same day both by email and on Instagram and sent me a replacement! I was really impressed with the experience shopping with them.
07/21/2021
Meghan M.

United States
Nice!
This was fun. I got a gem ear crawler and star studs. Super cute and worth the money, great high quality pieces!