The Fantastical Life of Sofia Ajram, the Brains Behind Sofia Zakia Jewelry
Sofia Ajram of Sofia Zakia Jewelry is just as interesting as she is talented. Her current collection of space and otherworldly gems comes from her personal interest and studies into these topics. These are just a few things that make us love this designer even more...not to mention that her cat is to die for adorable! Shop the collection.
Tell us about your studies and how that has influenced your jewelry collection.
I studied several things in college. I went to Dawson College to obtain a DEC in graphic design and then I went to McGill University to study East Asian Studies and Women's Studies. My focus was heavily on Japanese language and culture and that definitely influenced the storytelling aspect of my signature collection, Urobune. Urobune is the Japanese legend of an elegant young princess who allegedly landed on the shores of Japan in a UFO ­shaped vessel. There are a lot of other aspects of Japanese folklore I'd like to explore in future collections as well.
You grew up in a house with all brothers, playing video games and that manifested itself in your interest in cosplay. How would you describe it to someone who has no idea what this is?
Cosplay is a phenomenon that originated in Japan (are you folks catching the running theme here yet?) At its core, it's the practice of dressing up as a given character from a piece of media. Cosplayers are most well known to the public eye when comic or gaming conventions come to town. There you can see people dressing up as anything from Batman to Spongebob. Some people buy their costumes, some make them. I've been cosplaying regularly since 2013 and I make them all myself.
Making these costumes takes some super technical skills. It's not like you just sew a cape and call it a day. What is this process like?
It's a fun but arduous process! I'm a terrible seamstress so I tend to stick to characters that mainly wear armor and weapons. The process starts the same way as jewelry ­ with detailed sketches and gathering materials. Most of my costumes are from a popular online game called League of Legends (the game boasts an impressive 27 million players playing daily, making it the most popular game in the world), and many of their characters are beautifully designed. Gender is irrelevant when cosplaying, and in fact most of my costumes have been of female ("gender-­bent") versions of male characters.

All of my armor is made from worbla, a German ­manufactured thermoplastic that becomes malleable when heated to high enough temperatures. This makes it ideal for armor because it can be bent around limbs and holds its shape once it cools off! Other than that, there's a whole lot of uninspiring work that goes on behind the scenes... lots of painting and sewing and fixing to make sure the armor looks like it's effortlessly attached to the body. A lot of velcro and fishing wire goes into these costumes to make sure they don't fall apart.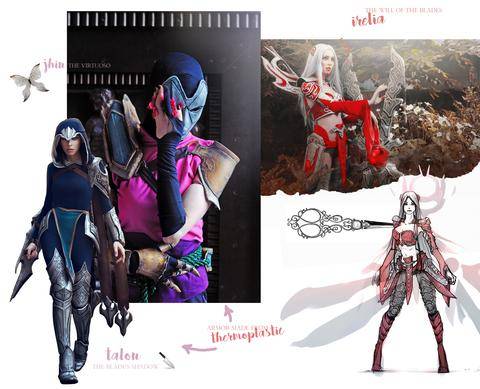 What outfit or character are you most proud of transforming into?
Most of the costumes I'm really proud to have brought to life, though I put a serious labor of love into making Irelia (from League of Legends). She's fun to play and has a lovely story... she's very elegant. I had seen this artwork of her by this Polish artist Ewa Labak and fell in love with how she portrayed the champion. The champion (Irelia) didn't have up­ to ­date official artwork and Ewa had added so many exquisite details. I contacted her and asked if she could create concept art of her vision of Irelia from the front for a cosplay collaboration and she accepted! The final design can be seen here and the cosplay here. It was a lot of work putting this costume together ­ her weapon is 4 blades that are movable via a plexiglass mechanism that runs through an LED core. Not only was the weapon able to transform but it was also able to be taken apart to fit into standard luggage. The gemstones on the armor are resin­ cast and each contain red LEDs linked to an invisible circuit under the armor. It's mostly fixed onto my body with silk thread and lots of fishing wire. I'm most proud of it because it was such a fun collaboration and the weapon is now on display at the Riot Games (makers of League of Legends) headquarters!
If people have an interest in cosplay, where would you direct them to find more info?
I'd be so happy to see anyone newly interested in cosplay after this! A big source of helpful information on cosplay can be found through Kamui Cosplay (Svetlana Quindt, a German cosplayer). She's really at the forefront of new techniques and materials and loves to share her findings. She has books and tutorials on everything from painting to LED circuitry and weapons crafting. I'll share her links below!

For books & written tutorials.  For videos.
You have the most adorable human like cat. Please explain!
She sure is a little dumpling! Her name is Isa (ee­sah!), which comes from the Icelandic town Ísafjörður, which my mother had visited just prior to meeting the cat. We picked her up from a breeder and she's a breed local to Quebec! Foldex are a mix between Exotic Shorthairs (pretty much short­haired Persians with grumpy faces) and Scottish Folds (owl­like cats with folded ears). I didn't even know Foldex was a breed until I met Isa at a Canadian Cat Association show and I fell in love with her!
Lastly, you're working on a couple of exclusive pieces for Local Eclectic. What can people expect?
An affordable take on our signature collection, inspired by all things celestial... of course with a Local Eclectic take. It'll be fun, dainty and stackable. With lots of out­-of-­this-world elements.
---